Saturday I drove through the icy wonderland to Raleigh to meet up with
Angela
to do some major boutique shopping. It was a blast! We had a great lunch at Cameron Bar and Grille and then hit up boutiques including
Fedora
,
Uniquities
,
Clothes Hound
,
Vestique
, and
Fab'rik
. I can't wait to show you what I got! Angela got me to step outside my comfort zone and try something new!
And no, I don't feel guilty. Let me explain...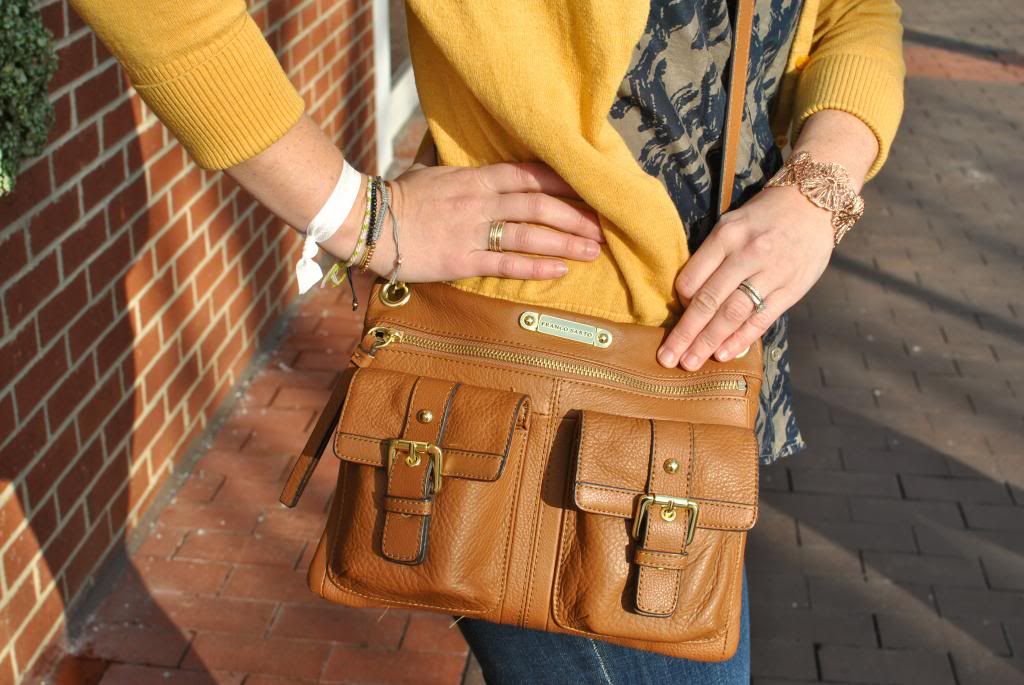 Bag: Franco Sarto via Belk, Jewelry: Stella & Dot
This bracelet is my new favorite bracelet. I've been wearing it with everything!
I've decided that February is going to be Fashion Freeze February for me. So, starting this Friday I am not allowed to spend any of my
$
moolah
$
on anything related to fashion. I'm sweating as I write this. My armpits are perspiring and I'm veklempt. Oh boy...
Okay, let me explain why I'm doing this...
I'm working toward my National Boards and it's expensive, peeps! Can't wait to get that first check if when I pass and celebrate! (Please, keep praying btw...I can definitely feel them.)
There are so many cute things in my closet that I need to learn to rework and this is giving me a whole 28 days to focus on them.
The way I see it is if there are still things in my closet I haven't worn or can't figure out how to wear in those 28 days, it's donation time!
Last, but certainly not least, I'm attending a Clothing Swap on February 28 where you bring in several pieces you want to "trade." For each piece you bring in, you get a ticket. Each ticket "buys" a piece someone else brought to "trade." Sounds ah-may-zing to me!
**Don't forget to link up your fitness motivation, healthy recipes,
or goals tomorrow for Fitness Friday**